In my last article, I introduced you to the most important methods of determining body fat. I explained that different measurement methods can lead to different results, and that reliability is the main quality criterion. Today, I would like to explain what you need to pay attention to when interpreting your own body fat percentage.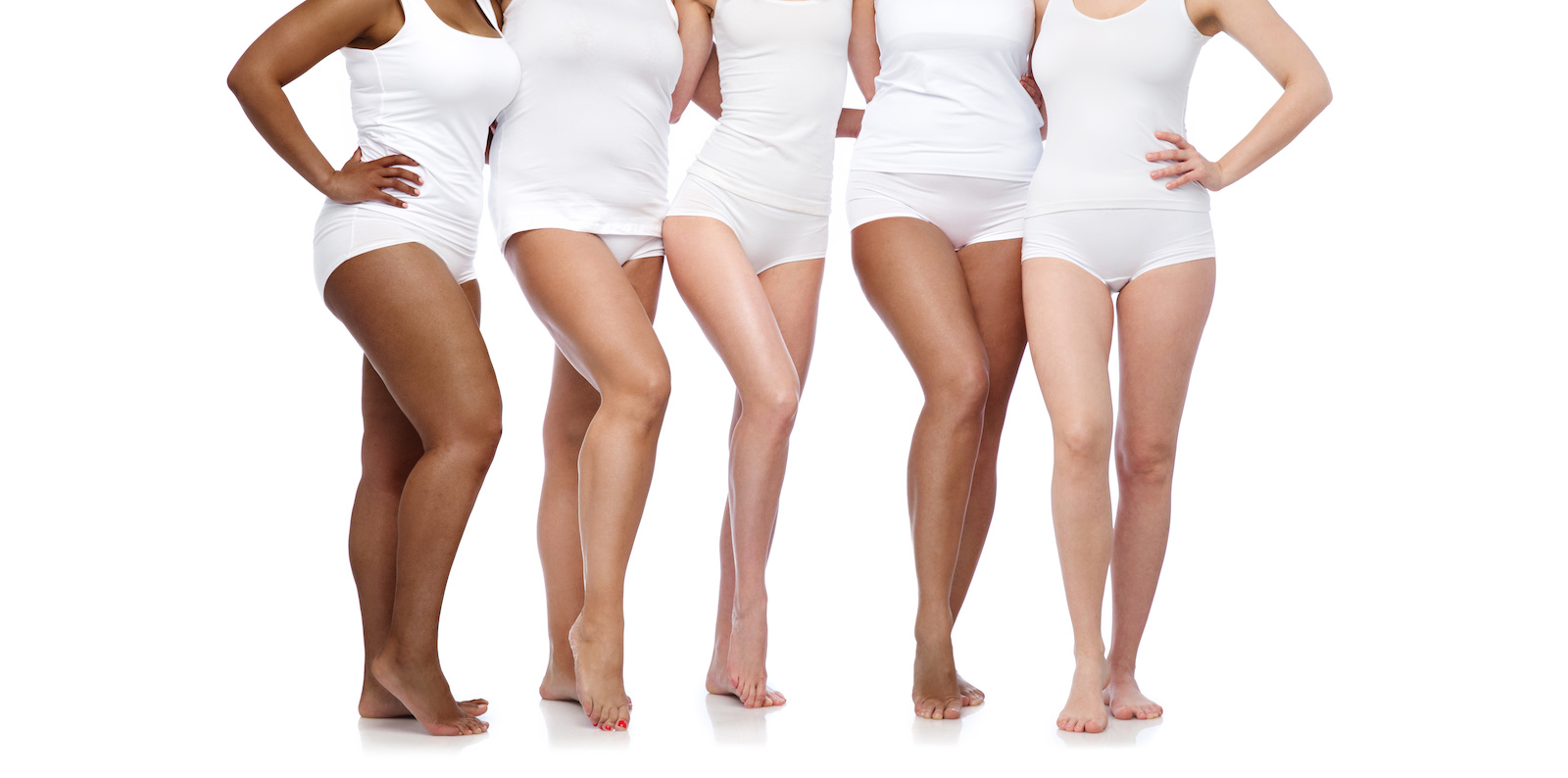 Each Body is Different
To begin with, you must understand that each body – with its individual shape and curves – is unique. The appearance is determined by a variety of factors; not only by exercise and nutrition, but also by physical development and genetic predisposition. Therefore, it is not surprising that individuals with the same body fat percentage can appear completely different. So, how can the body fat percentage be classified? Is it of any use to compare it with that of other individuals? 
Body Fat Proportion and Fitness Level 
People with the same amount of body fat can have (very!) different levels of fitness, because the fitness level is dependent on various physical factors, such as the number of red blood cells or the composition of the muscle fibre. If you want to determine your exact level of fitness, it is advisable to have specific tests carried out (e.g. a maximum strength test, a maximum oxygen uptake test "VO2 max test"). At this stage, we would like to advise against fitness-related classifications of body fat, such as "athletic", "fit", "average" and "poor". They can result in a false self-image or even a feeling of disbelief and frustration. You should also not fall into the trap of comparing your own percentage of body fat with that of other people. It makes much more sense to compare it with your own results – i.e. to check the progress before and after a specific exercise or nutrition programme. 
Body Fat Percentage and State of Health
A very low percentage of body fat poses a health risk, due to a possible undersupply, which can lead to a situation in which not all of the bodily functions can be sustained. A very high percentage of body fat also poses a health risk. In this case, metabolic disorders and problems with the musculoskeletal system can lead to disease. This knowledge has been gained by means of scientific studies, in which thousands of people have been screened for health risks. In this sense, the interpretation of your own body fat percentage, with the support of classification, is most appropriate. If the body fat content is not within the "healthy" range, medical examinations are advisable, in order to assess the overall health risk. 
What is "normal"? An Evidence-based Classification
A scientifically determined, healthy normal range is a meaningful aid to interpret body fat; rather than simply classifying it as "good" or "poor". Therefore, we decided to implement a new, evidence-based classification in the Bodygee system. We refer to the widely recognised research, conducted by Gallagher et al., which was published in 2000. In this study, more than a thousand people were analysed and a method of body fat classification was established, based on the regression analysis of gender, age, ethnicity, and BMI. The "normal range" defines a "healthy" body fat percentage, which is characterised neither by an increased risk of disease nor of an increased danger of mortality. 
Therefore, the classification tables used in the Bodygee system are based on this scientific study*:
Body fat classification men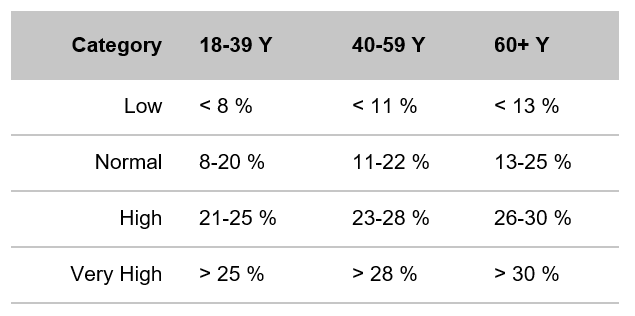 Body fat classification women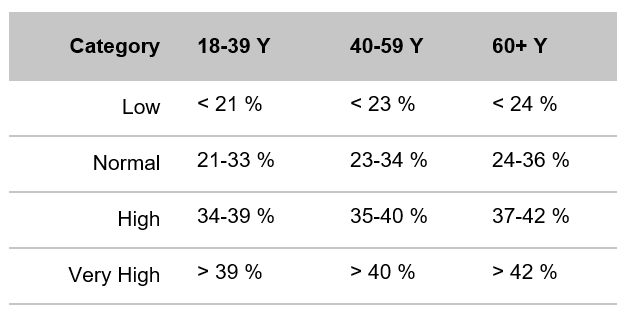 *Gallagher D, Heymsfield SB, Heo M, Jebb SA, Murgatroyd PR, Sakamoto Y (2000) Healthy percentage body fat ranges: an approach for developing guidelines based on body mass index. Am J Clin Nutr 72:694-701